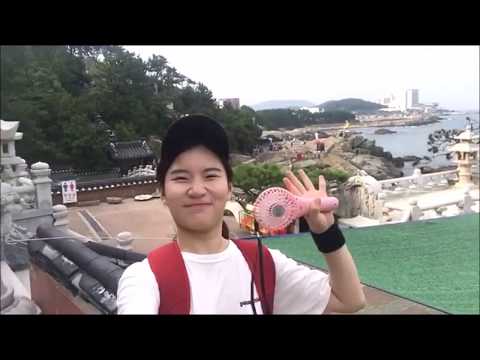 You can see wonderful view
Yonggung-sa (Temple view)
The way you go to the temple
The enter of the temple
This is one of the cuty thing
Yonggung-sa post box
Check the awesome view
Yonggung-sa (Temple view)
Ready to be surprised!
Yonggung-sa (Temple view)
Seeing many kinds of statues
In the temple
Budda statue
In the temple
Yong means this dragon
In the temple
Temple's appearance
In the temple
Combinating with ocean
In the temple
Budda statue
In the temple
Can buy bracelet
Souvenior shop
(Busan) Imagine a temple on the beach!
BRENDA

AVAILABLE ON
Sun. Mon. Tue. Sat.
MEET AT
12:00
MEETING POINT
Busan, Haeundae Subway Station (Line 2), Exit 7
DESCRIPTION
Imagine a temple on the beach, how amazing it is?
We are heading to the only one temple in the world which located nearby ocean.
This temple was constructed in 1376, but it was destroyed by the war. So, it has been rebuilt.
It is the one of popular tour attraction in Busan, so many foreigners are very interested in it. I bet you can experience a lot of Asian beauty.

Before we take a look at the temple, I want to be a friend with you guys. For this, we'll take a lunch together and have a talk. This is very helpful to know each other. I'm a local person, so I will give you a list included the best restaurant.

After lunch, we will take a bus to go Yonggungsa, and it might take 30 mins and after getting off a bus, we gonna take a walk to the entrance for 10mins. Around the entrance, there are many kinds of souvenir shops and food courts. If you are little hungry, you can take some foods.

In a temple, there has many meaningful status and each statue has a symbol. For instance, one of the statues has a meaning that if you touch his nose and stomach, you gonna get a baby. Or, if you throw a coin into a basket, your wish is coming true!

After the end of the tour, you will have free time. If you want to take more time with me, I'll be a pleasure to hang out with you guys.
12:00
Meeting at the Haundae subway station (Exit 7) and Having a cup of tea or lunch and knowing each other
13:00
Taking a bus to go Temple
13:40
After getting off a bus and walking along the beach for arriving at the Haedong-Yonggungsa (Temple)
14:00
Yonggungsa Tour
15:00
Satisfy our hunger by eating simple things (Optional)
16:00
NO. OF PARTICIPANTS
1~3
OPTION COMMENT
I'll recommend to go on May, because they have so much beautiful lights festival in a temple. And also the view is way better when sunny than cloudy or raining.
PRICE INCLUDES
Lunch, Coffee or Tea, Transportation
PRICE EXCLUDES
Souveniors, Snacks/Drinks, Dinner