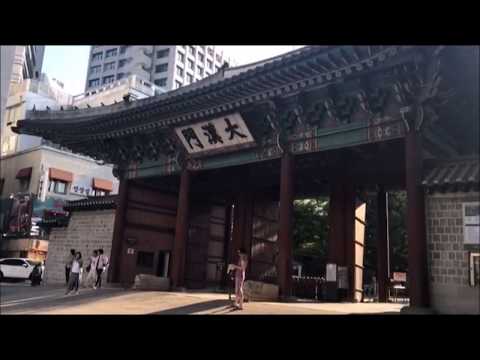 Take pictures
Deoksugung Palace
Take pictures
Deoksugung Palace
Take pictures
Deoksugung Palace
Take Pictures
Deoksugung Palace
Take pictures
Deoksugung Palace
Appriciate artworks
Art museum of Deoksugung
Take pictures, Buy souvenirs
Namdaemun Market
Have dinner
Namdaemun Market
Take pictures
Cheonggye Stream
Take pictures
Cheonggye Stream
Let's enjoy romantic vibe of the Cheonggye stream ( Night time tour )
sizz1003

AVAILABLE ON
Sun. Sat.
MEET AT
17:00
MEETING POINT
City hall Subway Station ( Line 1,2 ) Exit 2 ( Outside )
DESCRIPTION
Welcome to Korea!
I wanna show you Korean romantic vibe of Cheonggye stream.
Let's enjoy Korean night tour with me!
At first, we'll meet at City Hall subway station Exit 2 and go to Deoksugung Palace. There are many traditional buildings and gardens, so you guys can take pictures of them. And there is an art museum as well. When we first enter Deoksugung Palace, we are gonna pay for entrance fee including entrance fee of that art museum. You guys can take a look at the art museum.

After we take a look at the Palace, we'll go to Namdaemun Market famous for Korean vibe. There are many souvenirs and snacks. So you can buy many things with enjoying the vibe of the Korean market. And we are gonna have dinner at that market. There is a famous boiled chicken soup restaurant in Namdaemun Market, we'll go to that restaurant and have dinner.

At last, we'll go to the main attraction, Cheonggye stream! It might take us about 20 minutes to go to Cheonggye stream by walk. Getting to Cheonggye stream, we can enjoy the special market of Cheonggye stream, "Bam night market". You guys take photos and buy some souvenirs at Bam night market.
17:00
City Hall Subway Station (Line 1), Exit 2 (Outside)
17:10
Deoksugung Palace
18:00
Move to Namdaemun Market
18:15
Namdaemun Market ( Souvenir and Dinner )
19:40
Move to Cheonggye Stream
20:00
Cheonggye Stream ( Bam Night Market )
21:00
NO. OF PARTICIPANTS
1~3
OPTION COMMENT
Please be on time
PRICE INCLUDES
Entrance fee of Deoksugung Palace
PRICE EXCLUDES
Dinner, Transportation, Shopping