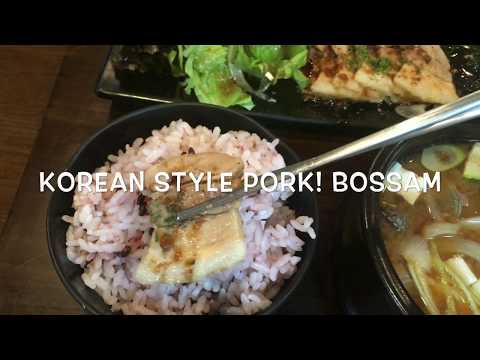 Eat Bossam (Korean style pork)
Bossam restaurant
Eat Korean food
Bossam restaurant
Go shopping
Underground shopping center
Go shopping
Underground shopping center
Go shopping
Cosmetics store
Go shopping
Clothes Stores
Go shopping
Clothes Stores
Go shopping
Shoes Stores
Go shopping
Accessories Stores
Eat Injeolmi
Dessert cafe
Eat Injeolmi
Dessert Cafe
Invite you in the biggest underground shopping center
Ewon

AVAILABLE ON
Sun. Sat.
MEET AT
12:00
MEETING POINT
Bupyeong Subway Station (Line 1), Exit 3 (Inside)
DESCRIPTION
Bupyeong underground shopping center is the biggest one in Korea. It's huge and complex place so sometimes we call it Dungeon in game or maze. But don't worry I'm specialist here. I Know you are already ready to shop but we should be ready also with food.

After we meet at Bupyeong subway station, we move to Bossam restaurant. As you can see in pictures it's Korean style pork and you can choose sauce between Teriyaki or garlic sauce. And they offer also Kimchi, bean paste soup, rice, vegetables and other pastes.

Now we are ready to shop. There is everything that you want in the underground shopping center. Clothes, shoes, cosmetics, colorful contact lens, accessory, and others. You can also choose a gift for your family or friends. If it's hard to choose the best thing for you, I can recommend

It's time to eat Injeolmi (Rice cake) with bread. We go to Korean dessert café and have a rest with desserts. As you can see in pictures, it's not the original style of Injeolmi. It looks like a type of toast. Even if I'm Korean, I actually don't like Injeolmi but it is my favorite dessert. So I think it's delicious also to foreigners.

And our tour will end in the cafe but I will bring you to subway station.
12:00
Bupyeong Subway Station (Line 1), Exit 30 (Inside)
12:10
Eating in Bossam (Korean style pork) restaurant
13:00
Shopping in the underground shopping center
14:00
Eating Injeolmi (Korean rice cake) Toast in dessert café
15:00
NO. OF PARTICIPANTS
1~3
OPTION COMMENT
* I can change the order of course (Schedules) if you want. For example, we shop first and after we eat. Just tell me please before our tour.
PRICE INCLUDES
Food (Bossam), Dessert (Injeolmi Toast)
PRICE EXCLUDES
Beverage