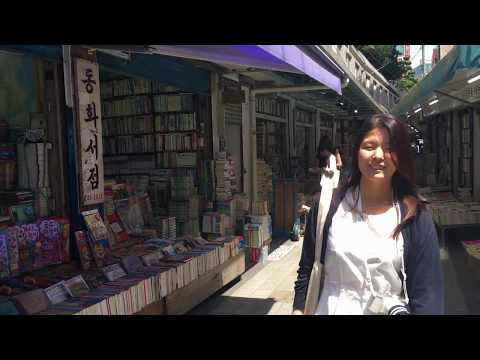 Bosu-Dong Book Alley
look around this alley
Bosu-Dong Book Alley
look around alley
Bosu-Dong Book Alley
look aroud this alley
Bosu-Dong Book Alley
map
'Bu-Pyeong Night Market'
There are many different foods
'Bu-Pyeong Night Market'
business hours
'Bu-Pyeong Night Market'
There are many different foods
'Bu-Pyeong Night Market'
There are many different foods
'Bu-Pyeong Night Market'
There are many different foods
'Bu-Pyeong Night Market'
There are many different foods
'Bu-Pyeong Night Market'
There are many different foods
'Cafe Dali'
having some coffee
'Cafe Dali'
cafe Vienna
Come to the Nampo, It's time for a late night snack!
jenny

AVAILABLE ON
Mon. Wed. Thu.
MEET AT
18:00
MEETING POINT
Jagalchi Station (Line 1), Exit3 (Outside)
DESCRIPTION
This tour will be started after 6 pm.
If you stay in near Nampo, please come to this tour!
You can experience night tour :-)!

Firstly, we will meet at Jagalchi station exit 3 (outside) and then go to 'Bosu-Dong BookAlley'. It takes only 10minutes by walk.
After Korea achieved independence in 1945, some people began to sell books that Japanese left there. And then it has become more and more popular. If you come to this book alley, You can see a wide variety of books and feel the special atmosphere of Bosu-dong.

In the alley, there is my favorite cafe named 'Cafe Dali'. This cafe is the Only Hand-drip coffee shop, my favorite menu is cafe Vienna, actually called 'Einspanner'. We can have some coffee and talk to each other. It will be a great time to know each other.

And Secondly, we will move to 'Bu-Pyeong Night Market'. The market is held after 7:30 pm. There are many different foods to choose from. You can try all kinds of food in the world as well as Korean traditional food! Of that, I strongly recommend you to taste 'Lee's house Tteokbokki '. Tteokbokki and fried vegetable that is the best combination. And many Koreans love that collaboration.

I would like to introduce the real Korean tour to you. Let's enjoy the night market with me! I'm looking forward to seeing you and be friend!
18:00
Jagalchi Subway Station (Line 1), Exit3 (Outside)
18:30
Bosu-Dong Book Alley tour
19:00
Café Dali
20:00
Eating foods at Bu-pyeong Night Market
21:00
NO. OF PARTICIPANTS
1~2
OPTION COMMENT
* Please be on time
** If you need to cancel your tour, please let me know asap.
PRICE INCLUDES
Coffee, Tteokbokki & fried vegetable
PRICE EXCLUDES
Other drinks and foods, Transportation