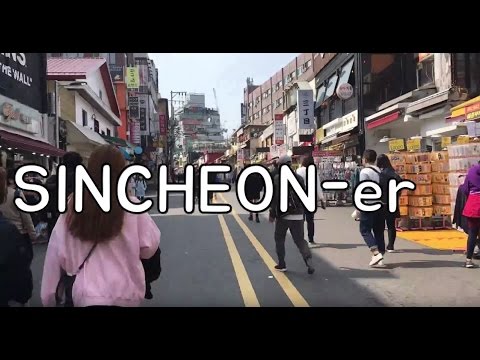 walking, shopping
Sinchon
walking, shopping
Sinchon
walking, shopping
Sinchon
campus tour
Sinchon
campus tour
Sinchon
campus tour
Sinchon
campus tour
Sinchon
eating, walking, shopping
hongdae
eating, walking, shopping
hongdae
eating
hongdae
eating, walking, shopping
hongdae
eating, walking, shopping
hongdae
SINCHON-er: How to be a Trendy Korean University Student
eugina_lee

AVAILABLE ON
Sun. Sat.
MEET AT
10:00
MEETING POINT
Sinchon Subway Station (Line 2), Exit 2 (Inside)
DESCRIPTION
Sinchon is one of the most vibrating streets Korea.
Around Sinchon, there are three universities (Yonsei, Sogang, Ewha Women's).
Therefore the street is full of young and trendy people. All the stores are targeted to university students. Just walking through the Sinchon will let you feel the young culture of Korea.

As I, myself, am being 4 years of SINCHEON-er, I can introduce the 'REAL' face of Korean university student's life. What they like, what they eat, how they relieve their stress… All these stories will be told by walking the Sinchon street.

Yonsei University has the second largest campus in Korea. Every season, the university wears different colors of clothes. With beautiful scenery of the campus, I will guide you all the facilities of the university.

After the campus tour, we will have the lunch. If you want to have a lunch inside the campus, let me know first. Most of the students eat at the campus food court, but sometimes students go out to the Sinchon street to have a special lunch. I will select the hottest restaurant among university students to take you.

Hongdae is right next to Sinchon. University students go to Hongdae to play. At Hongdae, you can feel the playful side of Korean university students. Shopping, tarot card reading, and various game centers will make you play like young students.

At last, sweet desserts are the best way to relieve stress. At Hongdae, there are special sweet dessert cafes that make students happy. I will take you to one of the best dessert cafes.

Are you ready to be a trendy Korean university student?
10:00
Sinchon Subway Station (Line 2), Exit 2 (inside)
10:10
Walking to the Yonsei University
10:10
Yonsei University Campus Tour (Explain the life of Korean students, Taking pictures)
10:40
Feeling the Sinchon Main Street (while we go back to the Sinchon station, we will look around the street shops. If you want, we will have some shopping time. I will of course explain what is a trend among university students.)
11:00
LUNCH TIME - Choice (1) Lunch at the university. There is an Italian and Asian food court inside the school. If you want to experience the university food court, let me know first. - Choice (2) TRENDY Food restaurant '미분당' – it's a Vietnam noodle house. - Choice (3) TRENDY Food restaurant 'Choice's Taco' – my favorite spot
12:00
Going to the Hongdae by Subway Line 2 (it's only one station apart from Sinchon)
12:10
Walking the main street of Hongdae. You can shop and take the Tarot Card Reading experience. Tarot Card Reading is an option.
13:00
Experience the Trending Dessert Café - Choice (1) Peony's – my favorite and recommendation, the best strawberry cake! - Choice (2) Chloris – Milk-tea, carrot cake café, very antique-designed café
14:00
NO. OF PARTICIPANTS
1~5
OPTION COMMENT
If you want to do the Tarot Card Reading at Hongdae, you have to pay extra $10.
PRICE INCLUDES
Lunch, Dessert Cafe
PRICE EXCLUDES
(Option) tarot card reading
REVIEWS
lalill

I booked the "SINCHON-er"-Tour and had a really good time with eugina_lee!
Her English is good and she was very open about herself and her experiences as an university student.
If she didnt know the answer to one of my questions, she was honest about that.
I got to know a lot about how a Yonsei students life can look like and eugina_lee told me not only about daily life in Sinchon but also about the newest or stereotypical trends.
At the very beginning of the tour I was very thirsty and she gave me her whole bottle of tea without hesitation. That was very kind, thanks again eugina_lee!
The tour was flexible and relaxed and eugina_lee let me choose the things that interested me the most beforehand.
She asked me where to put the focus on the tour (cultural things, shopping etc.) and planned according to my wishes and preferences.
For lunch she gave me several options to choose from which was very nice.
I had a good time with eugina_lee and can only recommend her tour.