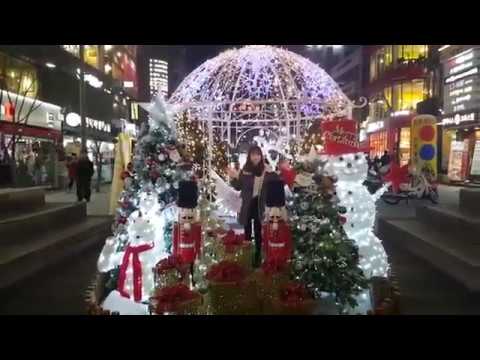 Barbecue!!!
Unlimited barbecue restaurant
Waiting tour mate :)
Sinchon station exit 2
Eating barbecue!
Unlimited barbecue restaurant
This is 'Somack" !!
Unlimited barbecue restaurant
Cheers :)
Unlimited barbecue restaurant
Take a picture with me? XD
Sinchon street
Interior
Pub
Bring food from there
Pub
Interior
Pub
Interior
Pub
Interior
Pub
Unlimited Barbecue Party!
seungju

AVAILABLE ON
Sun. Sat.
MEET AT
18:00
MEETING POINT
Sinchon Subway Station (Line2), Exit 2 (inside)
DESCRIPTION
Enjoy night life of Sinchon. If you like drinking alcohol, you will definitely like this tour!

This tour will start at unlimited Korean barbecue restaurant. you can order barbecue ever you want. We will drink "Soju + Beer" (we call it "SoMack") with barbecue. (Soju is Korean alcohol). 'Somack' with barbecue is a popular combination among Koreans.
After We will go to Game center (dart, baseball game, car game etc. ) you can choose two games.

After the game center, We will go to the Korean pub. This pub's interior is old times in Korea. As you can see the picture, the interior is really awesome. We will eat simple side dishes and I will tell you about "Korean drinking game" there :) .
17:50
Sinchon subway station (Line 2), Exit 2 (inside)
18:00
Eat dinner at Mutongsam (unlimited korean barbecue restaurant)
20:00
Go to FunCity (arcade)
20:30
Go to Pocha Again (Korean Pub)
22:00
NO. OF PARTICIPANTS
1~5
OPTION COMMENT
*Just bring empty stomach :)
PRICE INCLUDES
Unlimited Barbecue fee, Arcade *Only choose two games
PRICE EXCLUDES
Alcohol at barbecue restaurant, Eat & drink at pub
REVIEWS
derthongster

Seungju was my first experience with MYTM, and Im afraid that nobody else will be as amazing as her.
daniel park

she was an awesome friend who wouldnt stop talking! Also completes the package with her very cute laugh. She never made it awkward and loves to tell her stories about her time abroad. it was an awesome time with her throughout the entire tour.
andre

My tour with Michelle/Seungju was beyond my expectation.
She is well spoken (English and Korea), fun, lovely and not to mention her cute laughter. Energetic, mature and well travelled for her age. Daebak.
Cheung

The tour is great for people who wants to experience Korea like a local. Seungju is really kind, open minded and you can make easily friends with her. See you in Europe!