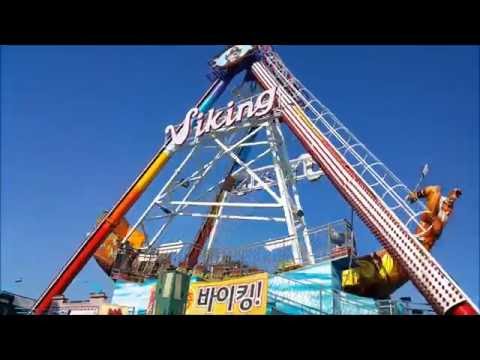 Go sightseeing
China Town
Lunch
Chinese restaurant
Snack
China Town
Walking down a road
Mural Street
Sightseeing
Fairy Village Entrance
Sightseeing
Fairy Village Street
Sightseeing
Fairy Village Street
Taking a picture
Fairy Village
Taking a rest and Sightseeing
Jayu Park
Feeling a sea breeze
Wolmido Sea
Enjoying Music And Water Show
Music Fountain At Wolmido
Riding the rides
Wolmido Amusement Park
Riding the ride
Disco Pangpang
Riding the ride
The most thrilling viking
The Most Thrilling Viking In Wolmido
yonghoon

AVAILABLE ON
Sun. Wed. Fri. Sat.
MEET AT
13:00
MEETING POINT
Number 3 exit (Inside) of the Inchon subway (1st Line)
DESCRIPTION
Do you wanna experience thrilling rides? There is a most thrilling ride in Korea.
The Wolmido Viking is known as the most exciting ride in Korea. Even if you are a person who likes scary rides, It's hard to put your hands up when you ride the Viking.
In my tour, you also can experience beautiful streets, blue sea, and delicious foods.

We will go to two places largely.
At first, we'll go to China town where we'll eat lunch. And we walk to Fairy Village and Jayu Park.
At second, we'll go to Wolmido Island where we'll go on the rides that are thrilling and exciting.

In detail, we'll experience Chinese food culture in China town. In Chinese restaurant, we'll eat Jajangmyeon that's black-bean-sauce noodles or jjamppong that's Chinese-style noodles with vegetables and seafood and sweet and sour pork. Also, you can buy Chinese snacks at the street.
Then, we'll walk to Fairy Village. We can experience the street like a piece of a fairytale.
Afterward, we'll go up the street and arrive at the top where there is Jayu park. We might be tired of climbing the street in summer. So we'll take a rest, drinking a cool beverage and looking at flowers and trees. Also, we can enjoy a landscape of Wolmido Island with the blue sea at the top.
This is all for China town tour, then we'll go to Wolmido Island by bus.

Arriving in Wolmido Island, we'll face huge rides and cool sea. It is famous for its pirate ship that is known as the most thrilling ride in Korea. Also, Disco pangpang that bounces people is famous for a lot of jokes of DJ. The biggest advantage of Wolmido amusement park is that we don't need to wait for going on the rides because there are not many people. Also, boarding time is long, so we'll enjoy sufficiently. We'll buy a ticket to experience three rides. We'll ride One for the pirate ship, the others for what you want to ride. Sure, you can ride the pirate ship more and Also other rides like Disco pangpang.

This is all for my tour course. After ending the tour we'll go back to Inchon station.

If you want to ride more, we can do that. Also If not rides, we can look at the beautiful night view of Wolmido Island.
13:00
Exit 3 of Inchon Subway Station (Line 1), Walk to China town
13:30
Lunch at Chinese restaurant
14:00
China town Tour(Fairy Village~Jayu park)
15:30
Going to Wolmido Island by bus at China town
16:00
Arrive in Wolmido Island Ride three rides
18:00
NO. OF PARTICIPANTS
1~5
OPTION COMMENT
* It will be so hot and sunny, you should get suncream and sunglass.
* The tour can be canceled in case of rain.
PRICE INCLUDES
Ticket for 3 Rides
PRICE EXCLUDES
Food expenses, Transportation expenses
REVIEWS
pondd

Like Yonghoon said, I wanted to experience thrilling rides. So I went to Wolmido with him. I thought that I can put my hands up when I ride the viking. It was little hard to me. And we ate jajangmyeon and went to Fairy Village. Oh, and we looked at the beautiful night view of Wolmido Island. It was good!